Skin tag remover that takes just seconds
What can Cryotag skin tag remover do for you?
With Cryotag Skin Tag Remover, you can now remove annoying or unsightly skin tags quickly and safely in the comfort of your own home.
Watch Anthony removing his skin tags in just 2 weeks
Watch Ella removing her skin tags in just 10 days
How does Cryotag skin tag remover Work?
Cryotag Skin Tag Remover works using cryotherapy which is the same trusted technology as used by doctors and dermatologists
The term Cryotherapy is Greek in origin. Cryo comes from kryos meaning icy cold and therapia means to treat.
Developed by a world leading manufacturer with 20 years experience in cryotherapy and skin tag removal, Cryotag is clinically proven** and instantly freezes the core of the skin tag, which destroys the tissue and causes the skin tag to fall off, in as little as one treatment.*
Skin tag removal in 4 simple steps
You can now freeze away your skin tags quickly and safely in just 4 easy steps with Cryotag Skin Tag Removal kit.
Attach the precision-tip applicator by firmly twisting it into the opening on the bottom of the cap.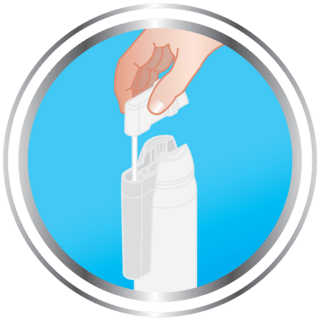 Place the canister on a table or other sturdy surface. Insert the precision-tip applicator with the cap into the canisters shield. Keeping the canister upright, press the cap all the way down for 3 seconds. You will hear a hissing sound.
Remove the precision-tip applicator and the cap from the shield, and hold with the tip facing down. Wait 15 seconds to allow the applicator tip to reach the correct temperature.
Grasp the skin tag with the tweezers provided and gently pull it away from the base. Then apply the precision-tip applicator to the stalk of the skin tag for 40 seconds.
Before use, please read the instruction leaflet provided inside the product. You can download the leaflet by clicking here.
Cryotag is not suitable for everyone; for example, Cryotag cannot be used if you are diabetic or if you have or have ever had any type of skin cancer.
To see the full exclusion list, please read the FAQ.
Watch our how to use video
Using Cryotag skin tag removal kit has never been so easy.
Watch our video to find out how to remove skin tags at home.
Don't just take our word for it – read about our many happy customers who have used Cryotag Skin Tag Remover to remove skin tags successfully…
Minimal Stinging
Amazon Customer
Worked after one use on a large skin tag. Minimal stinging during use and tag fell off within 24hrs1
Super Effective
Amazon Customer
I got this to address two tags in my armpit and they've just healed up! I struggled with the application on the second one, as it wasn't in a very accessible...1
Bye bye Skin Tags
Amazon Customer
This worked a dream! Bye bye Skin Tags!1
Brilliant Product
Amazon Customer
Brilliant product.. i had 3 skintags under my armpit area which looked unsightly.1
I have recently tried your product... What can I say other than.... WOW.
It's fantastic. Neck skin tags have become a real embarrassment...1
Want to find out more about skin tags?
Skin tags are very common and affect up to 50% of the population. If you'd like to learn more about skin tags then please follow one of the links below.
Find out about what skin tags typically look like and how they differ to a wart or a mole.
There are various different methods people use to remove skin tags – including the use of Cryotag Skin Tag Remover.
Find out about some of the common myths around skin tags.